EZ100J

Powder Coating Cup-Gun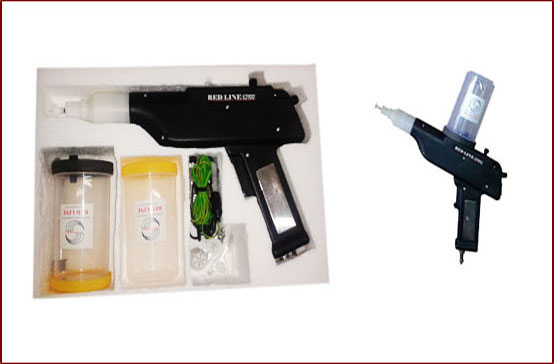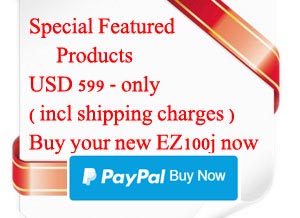 The High Performance 100 kV complete powder cup-gun
The RED LINE EZ100J is an all new 100kV completely portable powder cup-gun. Designed and built to be used by all powder coaters.
Industrial Coaters who want a powder gun for short runs in odd colors
Custom-coaters who need to -touch up- coated parts before curing
First-time coaters who want to start powder coating at a minimal investment
Powder coatings manufacturers for field trials and demonstrations of their powder coatings. Or for use in their own labs for batch testing
Serious hobby / DIY coaters who want professional coating quality.
Powder coaters who simply want a low cost high performance 100kV powder coating gun
If you are any of these, you may want the RED LINE E100J
The RED LINE EZ100J offers unmatched benefits ??? all packed in a single unit
Portable: No control panel, no hopper, no messy cables, tubings and hoses - truly portable
Charging voltage: Electrostatic charging voltage upto 100kV (variable from the kV controller on the gun itself) at the gun tip. All control electronics and the high voltage generator is miniaturized and fitted inside the gun itself.
Powder flow: Our ForceFeed Technology ensures smooth and puff-free powder flow. This is not a gravity-feed cup-gun and no -shaking- of the gun is required to get any semblance of powder flow. Control the flow from a whisper to a thick cloud from the gun itself.
Power supply: The RED LINE EZ100J powder gun is powered by an all-new specially designed direct wall mounting 12V DC power adapter and comes with a ground cable and heavy duty crocodile clip
Indicators: A large and bright Digital Meter on the rear of the gun which shows the charging voltage in kV. The LED next to this meter indicates when the gun is charging.
Powder cup: The large 750ml cup takes around 500 gm (1 lb) of powder at a time
Accessories: A set of different sized round diffusers and special star-jet nozzle - very popular with professional industrial coaters. Extra cups are available for storing different colors and powders. Also available in a special carry case
The technology behind the powder flow and electronics employed in the RED LINE EZ100J are sourced from RED LINE's industrial range of powder coating equipments and systems. The RED LINE EZ100J is a light-weight and user-friendly powder gun.